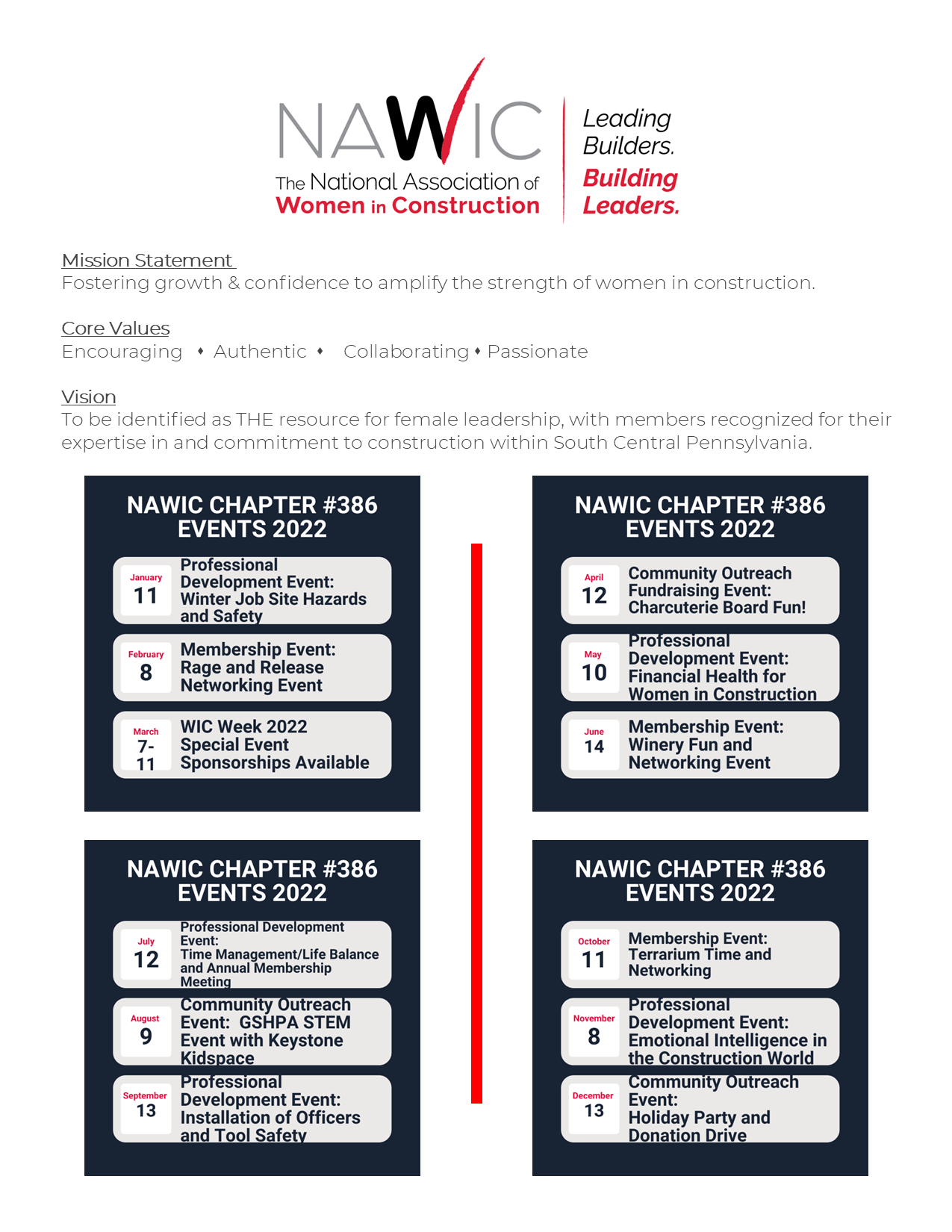 CORPORATE MEMBERSHIP- $1,600
4 Corporate Memberships for 1 year
1-2 minute commercial at an event
1 social media shout out
WEEKLY E-NEWSLETTER
Our weekly e-newsletter is our primary form of communication to our members and sponsors.  Our e-newsletter features information about our chapter's events and members.  Our e-newsletter is released every Friday.
Monthly Sponsor- $50 (Limit 12- Open to existing members only)

Tagged in the header: The NAWIC Weekly News brought to you by [Company Name]"
JPEG logo required.
Monthly Sponsor will have the opportunity to publish 1 targeted article of sponsor's determination with the help of a membership committee member.
EVENT SPONSORSHIPS
Presenting Sponsor for Professional Development Series (5 events total) – $1,500 (1 available)
Opportunity to display promotional company signage at the series events
Prominent display in NAWIC Weekly News, Website and Social Media for the months of the events
2 minute commercial at each series event
Recognition at both Annual Meeting and Holiday Party
Host Sponsor- $350 (Unlimited)
Opportunity to display promotional company signage at the event
Logo display in NAWIC Weekly News, Website and Social Media for the month of the event
Includes refreshments depending upon type of event
Will work with membership or community outreach committee on location of event
Attendance for 1 to the event and up to 2 minutes for introduction
Annual Meeting Sponsor- $1,000 (Only 1 available)
Opportunity to display promotional company signage at the event
Logo display in NAWIC Weekly News, Website and Social Media for the month of the event
2 minute commercial at meeting
Attendance for 1 to the event
 Installation Ceremony- $1,000 (1 available)
Opportunity to display promotional company signage at the event
Logo display in NAWIC Weekly News, Website and Social Media for the month of the event
2 minute commercial at meeting
Attendance for 1 to the event
Holiday Party- $1,000 (1 available)
Opportunity to display promotional company signage at the event
Logo display in NAWIC Weekly News, Website and Social Media for the month of the event
2 minute commercial at meeting
Attendance for 1 to the event
ANNUAL SPONSORSHIPS
FRIEND- $250
Social Media shout out
Sponsorship graphic on website linked to your website
1 minute commercial at a Professional Development Event
SUPPORTER- $500
Social Media shout out
Sponsorship graphic on website linked to your website
Attendance for 1 to one Professional Development Event & one Membership Event
1 minute commercial at each event
Opportunity to publish 2 targeted article of sponsor's determination with the help of a PR&M committee member in a calendar year
PARTNER- $1,000 (5 available)
Social Media shout out
Sponsorship graphic on website linked to your website
Attendance for 1 to one Professional Development Event & one Membership Event
1 minute commercial at each event
Opportunity to publish 2 targeted article of sponsor's determination with the help of a membership committee member in a calendar year
Press release to membership
Company banner on our websites landing page
Attendance for 1 to a WIC Week event
 ADVOCATE- $2,000 (3 available)
Social Media shout out
Sponsorship graphic on website linked to your website
Attendance for 1 to one Professional Development Event & one Membership Event
1 minute commercial at each event
Opportunity to publish 2 targeted article of sponsor's determination with the help of a membership committee member in a calendar year
Press release to membership
External Press Release
Company banner on our websites landing page
Attendance for 1 to a WIC Week Exclusive Event
Attendance for 2 to our Annual Meeting
Monthly recognition in our NAWIC weekly News (12 per year)
CHAMPION- $3,000 COMING IN 2023